A little about us...
Welcome to KT Kennels! Kim and Tracy are the force (and the KT) behind our kennel. Tracy has always loved German Shepherds. "Sally" was his family's German Shepherd when he was little and he remembers how great she was. In the back of his mind he knew he wanted to raise these wonderful dogs. Finally the chance came when we moved to a farm near Albion with lots of room for, you guessed it...DOGS! And to make things even better, the lady his family got Sally from, Dorothy Nelson, of Dor Nel Shepherds, was now our neighbor! She had lived near Albion for a long time, raising German Shepherds, and Tracy had kept in contact with her. Finally he was in a position to start raising German Shepherds.
Our dogs are very well cared for. We only have two to three litters a year because we take a great deal of time with the pups. Our pups are not whelped and just "maintained" until someone buys them. They are played with, taken for rides in vehicles, introduced to all kinds of sounds and we have as many people play with them as possible. We take pride in being "very protective" of our pups...they're a part of our family.
Kim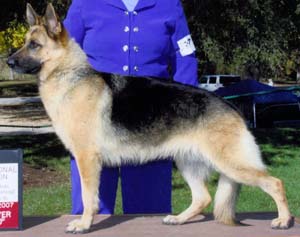 Hearts
Where investments in quality are made.